---
Sensory Arousal Modulation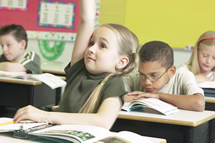 Sensory arousal modulation
is the brain's ability to properly regulate a person's "state of arousal." People need to be in a good state of arousal in order to attend, interact, and learn in our environment. When our state of arousal is low, we are sluggish, fatigued, and inattentive. When our state of arousal is high, we are on edge, agitated, excited, or hyperactive. Many individuals with ASD have a hard time obtaining and maintaining an effective or appropriate state of arousal, demonstrating behaviors associated with low or high arousal states at atypical times and places.
Our natural states of arousal range from very low (asleep, daydreaming, or meditating) to very high (alert and highly active to avoid danger or stress, hyperactive, or agitated) with the optimal range for daily functioning being somewhere in the middle. A normal functioning nervous system will have a fairly wide optimal range and be able to flexibly and adaptively keep within this range to perform effectively throughout the day.
During a usual day, many people coax their nervous systems into a higher rate of arousal within the optimum range by drinking hot coffee or cold orange juice, taking a shower, or doing morning stretches/exercises. Many also lull their system down to rest or for sleep by reading a book, taking a warm bath, turning the lights down low or off, or listening to soft music.
Individuals with ASD who have difficulties in state of arousal modulation often have a very narrow optimal range; find it hard to obtain or maintain an optimal state of arousal for specific activities, such as learning; or may seem to be physically unable to get into their optimal range.
When individuals have a narrow range for optimal arousal, they are intolerant of activities or situations that require a different level. Therefore, their responses are likely to appear unpredictable. If they have had a relatively stress-free day, they are likely more able to remain calm, attentive, and to tolerate a few stressors or difficult situations without becoming upset, distressed, or disorganized. However, the same individual who experiences repeated stressors or challenges to his or her sensory system may act "on edge," hyperactive, unable to focus, or overresponsive to a seemingly insignificant event. They may also fall asleep or nearly fall asleep. The cumulative effect of overstimulation or stressful sensory events decreases their ability to modulate their state of arousal to fit the situation.
When an individual is constantly overstimulated by sensory input in the environment, she may never, or very infrequently, attain an optimal state of arousal in which to learn and be actively engaged in her environment. An individual experiencing difficulties in sensory arousal modulation may exhibit the following behaviors:
Appear to be "tuned out;"
Become engaged in self-stimulating behaviors;
Have trouble exploring and learning from the environment; or
Exhibit problems attending to and participating in activities.
Just as the person with a well-functioning nervous system uses strategies to obtain and maintain an optimal level of arousal throughout the day, the individual with ASD struggling with arousal modulation will use strategies to attempt to do the same. However, the strategies used by the individual with ASD will often be ineffective, short-lived, or appear socially unacceptable. Constant or inappropriate mouthing of objects, jumping, pounding, crashing, self-stimulation, and even self-injurious behaviors are some adaptive ways an individual with ASD might try to obtain or maintain a "good" state of arousal. It is important to understand the origins of these behaviors to find appropriate strategies to assist students with ASD to choose more effective methods to modulate their states of arousal and focus their attention.
---
Information in this lesson is used with permission from:
Ayers, A. L. (1979). Sensory integration and the child. Los Angeles, CA: Western Psychological Services.
Wilbarger, P., & Wilbarger, J. L. (1991). Sensory defensiveness in children aged 2-12: An intervention guide for parents and other caretakers. Santa Barbara, CA: Avanti Educational Programs.
Williams, M. S., & Shellenberger, S. (1994). How does your engine run? A leader's guide to the Alert Program for Self-Regulation. Albuquerque, NM: Therapy Works.